Tommy Rocker's Mojave Beach, A Rock n Roll Topless Club, is an interesting mix of rock music, topless dancers, video gaming, and food. Originally Tommy Rocker's Catina and Grill, an outlet for Tommy Rocker to perform his rock music, the venue was transformed into a strip club in 2007, at which time Tommy told the Las Vegas Review Journal that the new motto would be "Fun for the whole family, except your wife and kids".
Billed as "somewhere the locals go with no rip off prices", the club is easily accessible from The Strip, and such famous hotels as Caesars Palace, The Bellagio and Palms Hotel. There are plenty of girls, as the club advertises hundreds of dancers, all of whom are friendly and will spend the time talking to customers. Dance prices are reasonable and private booths or VIP rooms are also available. Basically patrons enjoy the "hangout" atmosphere. Although the club is elegantly decorated with stone walls and fireplace, it is not at all pretentious, offering instead a relaxing, laid-back environment.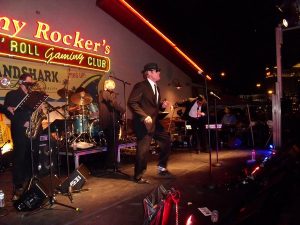 Unlike many other strip clubs, Tommy's offers a full menu with appetizers, fresh salads, sandwiches, entrees such as baby back ribs and desserts. Lunches are quite popular with the locals and a special breakfast menu is available. Of course, the bar is fully stocked with beer, champagne, frozen shots, microbrews, wine and spirits.
In addition to the dancers, other entertainment includes a pool table, video gaming, satellite sports, and weekly live performances from Tommy himself. His show is usually well received, as he mixes old time rock-n-roll with his own brand of comedy. According to his personal website, "Tommy Rocker delivers a Goofy brand of entertainment that has been called 'rock'n'comedy' or, as he puts it, 'jokes you can dance to'."
Open twenty-four-seven, the club offers a very long happy hour from six in the morning to six in the evening. No cover is required for locals but non-residents pay a mere twenty dollars. Party packages are promoted for bachelor, birthday or corporate parties.
One negative point is expressed from online posters who visited the club. During the day, there is not much point going to see the strippers or dancers, as Tommy's is more a bar and grill atmosphere. Outsiders say very little dancing goes on at lunch but the food is great.
---
Contact
Phone: (702) 261-6688
Address: 4275 Dean Martin Dr, Las Vegas, NV 89103
Website
---
Get directions