Over thirty years in business, the Can-Can Room is one of the oldest fully nude clubs in Las Vegas. Even though the club have five stages, it is still a small establishment featuring about twenty-five dancers. But for some customers, it is the quaint atmosphere they desire. In addition, the club advertises that because it is so small, the entertainers can provide personal attention. Past customers have said that the girls are pretty and friendly, but at the same time aggressive.
To make the private shows extra special and to spice things up, the Can-Can Room has seven fantasy theme areas which include the "Pearls of the Orient" and "Cleopatra's Lair" rooms. Open twelve hours a day from six in the evening, the club is conveniently located close to The Strip. A cab ride or some form of transport is most likely needed as the adult cabaret is not within walking distance.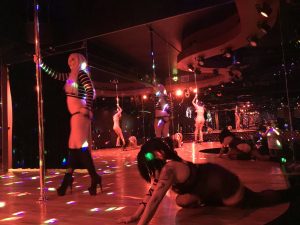 Admission includes two drinks, and locals only pay half what non-residents pay for the cover charge. Of course, drinks are non-alcoholic due to Las Vegas law that does not permit alcohol to be served in facilities with full nude performances. The website does offer a free pass coupon for self-drive customers which waives the customary cover charge. And to sweeten the pot, they have added a fifty dollar discount off a private show!
Customers claim that even though the admission fee entitles them to two free drinks, they are hounded to purchase another drink at ten dollars or buy a half-hour dance when they enter the strip club. At the time of this writing, the club was offering private dances for thirty dollars. But most guys opt for the drink waiting until later after they have seen the girls dance. Girls perform lap dances wearing bikinis.
The Can-Can Room has convenient parking, both valet and free parking at the front of the building. No food is served and there is no bottle service. One of the features that does make the strip club popular is the notoriety of some of the girls. The club boasts entertainers who have appeared in various print publications such as Swank, Cheri, Xtreme, Genesis, and Exotic Dancer. Some have even had spots on the playboy channel on television!
Apparently, there seem to be more complaints about this club then there are compliments. While one usually takes a negative comment with a grain of salt, most people online have given the thumbs down on this club. It is certainly odd since the club has been around for so long that some call it one of the historic sites in Vegas!
---
Contact
Phone: (702) 749-8484
Address: 3155 Sammy Davis Jr Dr, Las Vegas, NV 89109
---
Get directions