Pussycat Lounge, another Las Vegas all-nude strip club dive, is a very small club with two floors, the upstairs featuring a disc jockey after 9:00pm. There is not much information in regards to reviews and what customers have to say about the place but photos of the club show a rather ugly, nondescript building that looks more like a tiny apartment building. It certainly does not rival the glitzy Vegas clubs with valet parking and limo service. But then again, it is probably just right for the market it serves.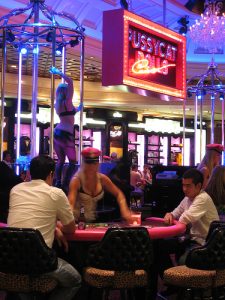 The signs on the exterior read "Totally Nude Cabaret – Pussycat's" with their slogan "Wildest Cats in the Jungle". Surprisingly, the club offers six VIP rooms and several private dance areas. Lap dance fees go to the club so tipping is expected for the girls. There is also a cover charge and of course, being all-nude, no liquor is served. To spruce up the atmosphere, the walls are covered with erotica art. At one point the Pussycat Lounge featured a weekly burlesque show with Alexandra Valentine called "Circus Eroctika,".
Lastly, one of the most exciting reasons to frequent the club is the downstairs shower room. Everyone's a voyeur and watching bare-naked, wet ladies taking a shower is titillating!