Rick's Cabaret Vegas, one block from the Strip, is a popular adult entertainment venue that receives plenty of media attention and has been named Best Gentlemen's Club by several sources including the Adult Nightclub & Exotic Dancer Award Show, the Las Vegas Review Journal, and Las Vegas Weekly. A two-story building with fine dining, VIP areas, and gorgeous entertainment, the club also hosts private parties, special events and business meetings.
Not just a strip club, many refer to Rick's as a nightclub or cabaret. It is home to over five hundred beautiful showgirls entertaining nightly on six stages. Apparently, the entertainment is not just stripping, but also choreographed displays of aerial acts and other breathtaking feats. And according to customers who have visited the club, the Piano Bar actually has live piano performances. There is no doubt that the club appeals to a broad range of patrons.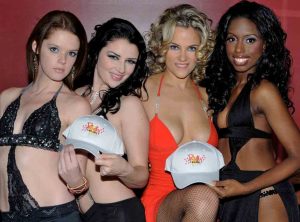 Further, the club has a "rich feel" with the marble floors, fireplaces, vintage wines, gourmet chef, and exotic girls from varied cultures. Advertising their own fleet of luxury transportation, customers who avail of the service are admitted into the club for free. And if a stretch limo is not big enough, the club has added a group of new party buses that will help get the night's adventure started. The transportation is complimentary and rides can be arranged by calling anytime between four in the afternoon until eight the next morning. Just be sure to tip the driver!
VIP packages are available for individuals and groups. The passes may include transportation, admission, mixed drinks, champagne, fancies such as strawberries and whipped cream, as well as full course meals. Tourists and locals are both welcomed and there are plenty of intimate areas of the club to enjoy. Choose from the Grand Havana Private VIP Salon, Sky Lounge, Library Bottle Lounge, Piano Room, or Sky Bar. Reservations are easily made online and at the same time, customers may request special services.
With twenty-five thousand square feet of space, many online reviewers indicated that the club was too big to be friendly or accommodating. Most stated that it was so overcrowded that service was poor and seats were non-existent. But being a huge space can also be an asset when hosting large parties. Take for example the June 2009 Friday night party hosted by Ronnie the Limo Driver from the Howard Stern Show. A couple hundred people were invited, in addition to the three hundred girls from Rick's.