Without doubt, there is plenty to see and do at Little Darlings, the totally nude Gentlemen's Club. Lots of nooks and crannies around the main stage to enjoy the best seating while indulging in fantastic shows to meet any fantasy or whim. And to complete the imagery, the club offers a number of private show booths, special fantasy rooms, a movie room, and even a shower room. Not surprisingly, the strip club's slogan is "where fantasies begin".
Little Darlings boasts hundreds of girls. The music consists of the Top 40 hits, rock and a variety of pop. The club has recently been renovated or upgraded according to their website but no photos are yet available. It is open daily eleven in the morning until six the next morning, closing for five hours. No alcohol is available as per the law regarding all-nude clubs. And no food is served here, either. Both self and valet parking are offered. An adult toy store, owned by Little Darlings, is adjacent to the club.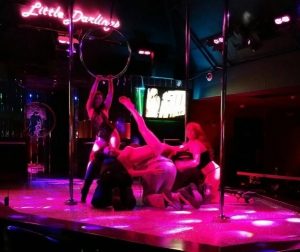 The main stage is where everything happens, but as the club gets busy, another smaller stage comes out so that more girls can participate in the show. Lap dances as well as couch and bed dances are popular, plus specialty theme rooms are available for private parties. VIP seating and VIP rooms are available for single dances or groups. A full hour in a VIP room costs around five-hundred dollars. Purchasing the VIP package for five includes admission, booth seating, all-you-can-drink sodas, and one juice each.
Wild parties seem to be the specialty of Little Darlings. It is best to request their newsletter in order to know what is going to be happening. Some of the regular events as well as celebrations throughout the year are:
Cinco de Mayo at Little Darlings in May 2009, special pricing was offered for drinks, private dances, and hookah.
Some Thursday evenings have been Couples' Nights where two-for-one entry was promoted. Other Thursdays have been "Hookah Nights" with free flavor refills.
The club has held amateur contests and special locals events.
They have also held meet-and-greet nights with area rock bands.
One of the more tantalizing and exciting promotions has been the "Wet Sets", shows featuring the performers doing unimaginable tricks with chocolate, wax, bubbles and plenty more sexy liquids.
In addition to the theme and fantasy rooms, some of the shows on the main stage include dancers frocked in elaborate fantasy costumes and themed clothing.
---
Contact
Phone: (702) 366-1141
Address: 1514 Western Ave, Las Vegas, NV 89102
Website
---
Get directions