Diamond Cabaret Las Vegas, another totally nude strip club, is a smaller venue with good-looking woman but a bad reputation for aggressive behavior. Because it is out of the way, most visitors end up here because a taxi driver "suggests" the location. After paying forty-five to fifty dollars to enter the club, most customers are confronted with "pushy" dancers looking to perform private dances or VIP room performances only.
Many of the stories from customers are the same. They pay the cover charge, then as soon as they enter, waitresses try to sell them twenty dollar drinks, and the dancers provide "mandatory" tours of the VIP rooms. Once inside, they are hustled for more money either cash or credit card, and the night turns out to be rather expensive for very little. The cover for residents, however, is considerably cheaper.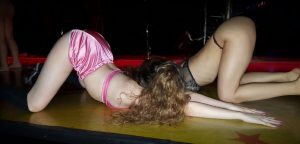 Although many customers seem to be "put-off" by the atmosphere, the club is known for hosting some serious feature acts and offering good entertainment for bachelor parties and other social events. One of the club's billboards promotes Diamond Cabaret as "Home Of The Stars" with pictures of L.A. LaMann and Lisa Lipps, both known for their sexy and enticing adult movies.
Without trying to be overly negative, it should also be noted that the club does not even provide information on its own website preferring rather to park its domain with no content for either physical nor online visitors. It is a shame because their old website was great, very informative and professional. Diamond Cabaret is open about twelve to fourteen hours a day and offers free parking, lap dances, and VIP rooms. The inside is comfortable and the dancers use a stage with three poles for their shows. Everyone agrees that the women are gorgeous and talented!
The music played is chosen by the dancers in order to match their shows so it can be a variety of tastes. There is no restaurant but snacks are available. Due to the all-nude factor alcohol is not permitted. Special packages are available for those wanting to hold bachelor parties or other special occasion events. Diamond Cabaret is known for pushing the envelope on excitement when it comes to performing and hosting parties.
Like most businesses, there are pros and cons to visiting. But for males and females who like to watch beautiful, nude women dancing, then this club is the place to go.
---
Contact
Phone: (702) 731-2365
Address: 3177 S Highland Dr, Las Vegas, NV 89109
Website
---
Get directions