Déjà Vu Showgirls is a large national chain with the greatest company slogan – "1000's of Beautiful Girls & 3 Ugly Ones™". And as strip club goers would expect, Sin City has one of their totally nude clubs. With lots of weekly events, gorgeous women, and a variety of special options including shower, table or couch dances, Déjà Vu Showgirls Las Vegas is one of the more popular strip clubs.
Many visitors state the club is clean and airy and boasts over one hundred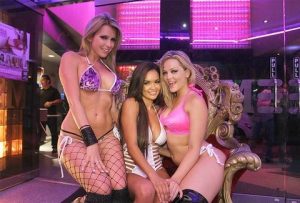 dancers performing on two stages. Although the dancers are quite friendly, waitresses are very aggressive when the girls are mingling with customers. But everyone says the performers are beautiful. Drinks are presently ten dollars but they have a package for thirty dollars which includes admission and unlimited drinks. Because the girls are fully nude, drinks are non-alcoholic thus, the reason for a juice bar. Both valet and free parking are available. Complimentary van or limo service is offered to customers staying at area hotels.
Déjà Vu Showgirls is really big on events, with specials on almost every night of the week.
Sundays are pretty popular as the girls get down and dirty in the nude oil wrestling contests. All slippery, and driven to win the badge, the girls are passionate about these wrestling matches. To make things even spicier for the guests, hookah and VIP rooms are offered.
Mondays are the free Hookah Nights where anyone buying a booth enjoys hookah on the club.
Tuesdays are good value with two-for-one dances. Theme room dances make the visit more exciting.
Wednesday nights are best for female customers as admission is free and five dollars buys all-you-can-drink. At ten PM, the club promotes a Ladies Night and Amateur Contest where ladies enter and are eligible to win cash prizes.
Fridays and Saturdays seem to have a mix of entertainment specials. Two-for-one dances, "G-SPOT After Hours", and "DJ STEVO's House Party" all contribute to the weekend party.
Interestingly, Déjà Vu Showgirls Las Vegas openly encourages customers to report cab/taxi drivers who try to persuade customers to visit other clubs. Since the club does not provide any sort of compensation to drivers, they do not expect other clubs to steal their customers (although this happens all the time). In fact, they really prefer customers call to arrange a free pickup instead of worrying about paid transportation.
---
Contact
Phone: (702) 308-4605
Address: 3247 Sammy Davis Jr Dr, Las Vegas, NV 89109
Website
---
Get directions