Only two minutes from the Las Vegas Strip and a Five Diamond Award winner, Badda Bing! Gentlemen's Club caters to business meetings, parties and romantic getaways for couples. Set up to accommodate small groups or parties as large as four hundred guests, the topless club is open twenty-four-seven and offers fine dining in addition to special events. Their New Year's Eve parties are huge and tickets are sold out pretty quickly.
It is no wonder the strip club is so popular, as the women are considered to be some of the most beautiful entertainers in Vegas. Boasting over three hundred dancers, most online reviews indicate that the girls are very friendly and do not hustle the guests. Excellent service is the norm and reservations are accepted in order to save time and be assured of a spot.
Badda Bing! is lavishly decorated with much thought put into every detail.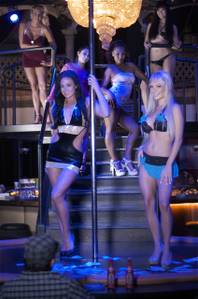 Even plants are part of the décor. Plush chairs, warm and inviting drapes, and artwork on the walls add to the total ambiance. The outside of the club is a Mediterranean style building which belies comprehension for a strip club. In fact, most first-time patrons felt that they had arrived at the wrong address, but were pleasantly surprised to find such an elegant setting coupled with beautiful women.
Badda Bing! maintains a high profile with its theme nights such as the Sahara Hotel NASCAR Event, Venetian VIP Golf Excursion, and MGM Grand's Wet Republic. An upcoming 2009 event is the "Bull Strippin at the Bing Night". Wednesday nights are the Ultimate Fighter parties complete with "Boobs, Beer and Brawl". In addition to the special events, the club sells their own official gear including t-shirts, hoodies, and hats.
Fine dining at Big Poppas Kitchen includes a varied menu of tasty morsels. Shrimp, calamari, Arugula Salad, Caprese Salad, seared tuna, rack of lamb, New York strip steak, chicken breast, salmon, veal and pastas tempt the guests and truly making the choice of dinner difficult. Of course, to finish of the culinary experience, desserts are served and be sure not to forget the champagne.
VIP services include booths, Skybox, front of the line admission, drinks, limo ride, requests to the DJ, and sometimes appetizers. The club even has its own party bus which is great for a bachelor's last night out or even a sporting event get together. And for those who frequent the club on a regular basis, Badda Bing! has a membership account. Sign up conveniently on the website.