Like everything else in Vegas, there are plenty of strip clubs. Sometimes known as "gentleman's clubs", there are different classes of establishments and different calibers of performances by the ladies in the clubs. Some clubs offer food and liquor, catering to the business or lunch crowd, while others offer full-nudes where alcohol is taboo by law. Invariably, some of the spots are "dives" or "holes in the wall" and others appear much more respectable participating in charity gigs and cross promotions with area hotels. No matter what type of venue, it is true that stripclubs are a large segment of the Las Vegas landscape.
Here, at Stripclubs of Las Vegas, we will review all varieties of clubs and the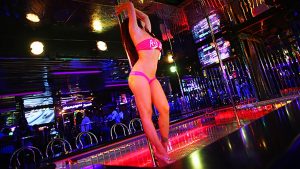 different services they offer. Of course, when we say services, we mean features of the clubs (not the ladies) such as private booths, bottle service, VIP service, televisions, special events, and limo service. But in relation to the ladies, we will discuss whether the club is perceived as overly aggressive, whether online comments suggest the girls are friendly and hospitable or pushy, and how well the girls dance compared to other stripclubs.
Assuredly, customers visiting upper-end-of-the-scale clubs are not only interested in the women, but in luxury and service. The basic premise behind a Las Vegas stripclub is pandering to the customer's every wish. Fancy humidors stocked with expensive cigars, fine dining, exotic cocktails, imported wines, luxury VIP boxes, and nightclub settings all contribute to the allure and appeal of a Las Vegas stripclub.
Stripclubs in Vegas are somewhat different than other cities where they are predominantly enjoyed by male customers. The higher end clubs, on the other hand, offer special events for ladies such as bachelorette parties, as well as free admission nights. The clubs even encourage couples and view their clubs more as venues for "nights on the town" rather than bawdy entertainment for male customers. And some clubs have male shows in order to attract female customers.
The idea of bigger and better is prevalent in all entertainment venues in Vegas and stripclubs are no different, as Vegas is home to one of the biggest stripclubs in the world. Stripclubs compete with other nightclubs and competition among the clubs is fierce. Taxi drivers are awarded sizable commissions to steer customers to particular clubs. And pool parties at area hotels might feature beautiful, topless, sunbathing women from the local stripclubs.
A Vegas stripclub is a tourist attraction in itself (and an important part of Las Vegas Nightlife), so when you decide to have a good time relaxing, be sure to kick back and enjoy your stay by visiting one of the stripclubs in Las Vegas and Las Vegas Nightclubs before you leave. Remember, Vegas is called Sin City for a reason!