Treasures, Las Vegas Strip Club, has a different concept than most gentlemen's clubs. While many clubs focus on the girls, and even then, the entertainment is not that great, Treasures claims to be superior with its luxurious surroundings. It even goes as far to say the venue is "opulent". Additionally, dining is important and Treasures promotes itself as "The Most Luxurious Gentlemen's Club & Steakhouse in the World". Not what one would expect from a strip show!
Hosting special events is a popular theme at Treasures. With a varied menu or buffet style food, the club caters to corporate events, bachelor parties, sports teams, and any other occasion that one expects to hold in an elegant location. Monday nights are exciting with the Football Parties which include free tailgate buffet, half-time dollar dances, door prizes, raffles and drink specials. Everyday is a party during Happy Hour where well drinks and domestic beers are a dollar each.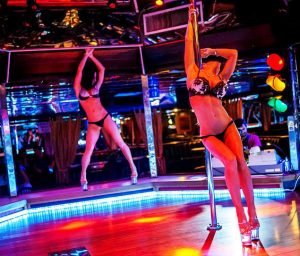 Reviewing the steakhouse menu, items are diverse ranging from salads, soups, appetizers, desserts and main courses. There is no doubt from the prices and selection of beef, seafood, and poultry that the restaurant is considered an upper end eating establishment. The dining room is expensively decorated and is quite comfortable with all its plush trappings. And for those patrons who are not too sure about dining with the entertainment, the restaurant has the option to enjoy their beautiful entertainers or abstain.
Complimenting the fine dining atmosphere, Treasures boasts an excellent selection of cigars including Cohiba, Arturo Fuente, Punch, and Ashton, premium champagne, and fine cognac. Fancy strawberries dipped in chocolate complete the ambiance. Several VIP Packages and Dinner Packages are available from which to choose making a special evening memorable. In addition to the restaurant, the club offers specialty areas which include skyboxes, the Venus Lounge, and the Apollo Room.
Indeed, Treasures is somewhat exclusive, as it has been reviewed as one of the most expensive strip clubs in the world. The imposing exterior of the building is artfully designed with two turrets, and the interior is decorated with pieces of classical art and erotic statues. Customers who have visited the club indicate that the service is superb, the food is gourmet, the entertainment is classy, and the girls and other staff are more than friendly. The atmosphere is not pushy at all and everyone is expected to enjoy themselves in comfort without hassles. Along with the opulent and luxurious environment, the staff strive to make each visit as hospitable and as personal as possible.
---
Contact
Phone: (702) 257-3030
Address: 2801 Westwood Dr, Las Vegas, NV 89109
Website
---
Get directions