Cheetah's Topless Lounge Las Vegas is full of neon lights and illuminated poles which some call the ultimate adult entertainment. In fact, one of the great features of this topless strip club is the excellent pole dancing shows performed on the main stage intermingled with smaller side stages. Some of the furnishings are appropriately covered in animal print for the name of the strip club.
Open twenty-four hours a day, Cheetah's advertises hundreds of regular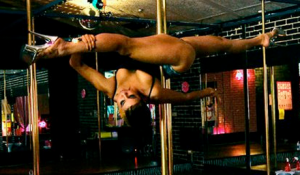 dancers as well as adult feature entertainers. Customers say that on a busy night, the club has as many as five hundred dancers. They also offer a schedule by email to let patrons know when the special feature entertainers are coming. Although the club grew to notoriety in the late 1990s as a result of being filmed in the 1995 movie "Showgirls", many online forum participants feel that the club is not what it used to be. For the most part, however, the girls are pretty, the atmosphere is friendly and casual, and many say Cheetah's has a "sports bar" feel with big screen televisions on the main floor and and at the bar.
Drinks are inexpensive compared to other clubs if ordered before nine in the evening. Usually draft and domestic drinks are two for eight dollars. And sometimes really good specials are a dollar each. Cover charges are waived if customers arrive earlier in the day or evening. Music, cigar bar, lap dances, VIP rooms with special pricing, a lunch buffet, and valet parking add to the welcoming atmosphere. Then, there is the daily Lap Dance Happy Hour, so plenty of variety exists.
Party packages, bachelor specials, and VIP passes are available for various prices. They usually include front-of-the-line admission, transportation, drinks, and VIP seating. Interestingly, there are as many female guests at Cheetah's as there are male customers. In fact many guys show up with their wives and girl friends and the atmosphere is great for both.
It is pretty obvious from all the specials offered on the drinks, buffet, lap dances, and private dances that Cheetah's is good value for the money. Depending on the time day, it is easy to find a bargain making the visit easy on the wallet. Although a dress code is enforced, jeans and sneakers are permitted if not torn and tattered. Reservations are taken and bottle service is offered for those who prefer a more personalized outing. No doubt, Cheetah's is a party waiting to happen!
---
Contact
Phone: (702) 384-0074
Address: 2112 Western Ave, Las Vegas, NV 89102
Website
---
Get directions